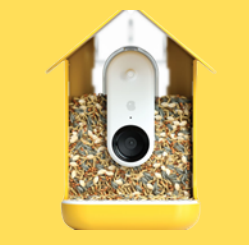 Bird watching from your home has never been easier. Bird Buddy is the newest development in the world of birdhouses. Bird Buddy looks like your normal birdhouse but has so much more to it. It has a built in camera that will push a notification to your phone whenever a bird is visiting.
Bird Buddy comes standard with artificial intelligence bird recognition so you'll know exactly what types of birds visit your home. It's easy to install and can even be mounted to the outer walls of your house or on fence posts.
It's built from incredibly durable materials. You won't have to worry about inclement weather or squirrels destroying your birdhouse. Bird Buddy is the most advanced birdhouse on the market and is available for pre-order now.