Our people define our organization – that's why they're specifically cross-trained in the various technologies we offer clients: computers, networking, telecommunications. With a commitment to having a knowledgeable employee base, Fairoaks IT provides the resources and training needed to ensure staff members are qualified to provide you with the highest quality solutions. The result of this commitment is meaningful relationships established with our Clients – a long-term partnership for your success. Expect greatness with Fairoaks IT.
Tom is founder and president of Fairoaks IT. Since 1991, Fairoaks IT has been bringing world-class, enterprise-level IT support to small and medium-sized businesses.
As an Information Technology support expert who is passionate about delivering technology that "just plain works the way it's supposed to", Tom understands that technology advances at a dizzying speed. And while technology helps small to midsized companies, it also frightens them as they can't afford the infrastructure to actively adopt the newest and best, nor to defend themselves from the constant threat of being invaded or outdated. For a fraction of the cost, the small to medium size company can have all the benefits of a large company's in-house IT power from Fairoaks IT. Their motto, "You Manage Your Business. We'll Manage The Technology Behind It." sums it all up.
Tom prides himself in providing personal service. Distinguishing themselves from a large IT chain's off-the-shelf service, Fairoaks IT staff knows their client's business, their names and their unique situations. They enlarge and empower small companies. Tom's ethical stand is "I treat my client's money as if it was my own". There is no one size fits all service. All his clients' IT needs are crafted to align with their business and their budget. "I have to be creative to give them state of the art, essential and affordable service and I'm proud of it" says Tom. Many business owners are proud to add Fairoaks to their 'My doctor, My financial advisor and My IT guy' list.
Tom brings his dedication and focus to his personal interests. Away from the office, Tom is an avid, instrument-rated private pilot. He also likes to spend time with his family, getting away to the mountains for some hiking or snowmobiling.
Degrees & Certificates:
Microsoft Cloud Partner
Dell Preferred Partner
Microsoft Sales Specialist
General Electric Management Training (2 year)
BS in Operations Research from the University of Massachusetts
BS in Industrial Engineering with a minor in Industrial Psychology from the University of Massachusetts
Adam brings experience from various roles in management, process improvement, and customer service in the aerospace, defense, and commercial manufacturing industries to Fairoaks. When he isn't thinking about our clients, Adam enjoys flying, hiking, biking, and spending as much time as possible with his sons, Theodore and Harrison. Adam graduated from the University of Massachusetts Dartmouth with a Bachelors in Operations Management, from the University of Massachusetts Amherst with a Masters in Business Administration, and from Indiana University with a Masters in Global Supply Chain Management.
Degrees & Certificates:
CompTIA A+
Bachelor of Science in Operations Management
Master of Business Administration (MBA)
Master of Science in Global Supply Chain Management
United Technologies Operations Leadership Program Graduate
Jen Butler
Automation Manager
A team member since 2013. When Jen isn't helping our clients, she can be found doing anything outdoors. She enjoys hiking, kayaking, walking her dog Maisie, and spending quality time with family.
Degree & Certificates:
Bachelor of Science in Information Technology (BSIT)
Certified SonicWALL Security Administrator
Star2Star Certified VoIP Installer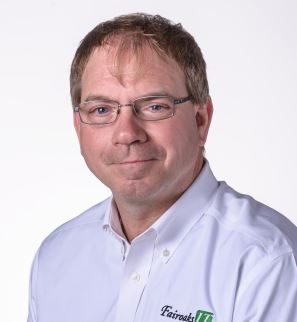 John Wallask
Director, Technology And Innovation
John became a member of the Fairoaks IT team in 2018. He has 15 years experience post MCSE certification successfully providing comprehensive, cost effective technology solutions in finance, legal, medical, nonprofit and manufacturing industries. He brings expertise in overall design, direction and support of highly scalable IT solutions to the team.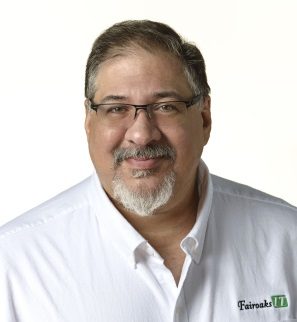 Alan Shapiro
Director of Operations
Alan joined Fairoaks IT in August 2019. His years of experience enable him to quickly diagnose and analyze any issue and provide customers with outstanding assistance. He is proficient at troubleshooting and problem resolution. Alan has certificates from Microsoft, Symantec, Sonicwall VMware and Tenable. His goal is to assure all clients' requests are completed in a timely and efficient manner. When Alan is not working, he enjoys spending family time with his twin girls, Emily and Rachel.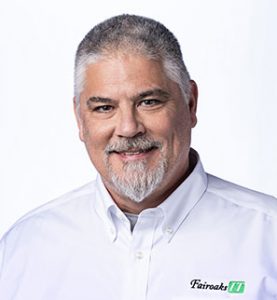 Jeff Ryder
Senior Systems Administrator
Jeff joined the Fairoaks IT team in September 2022.  Jeff has many years of experience as a Network Engineer and Administrator with an in-depth understanding of both existing and emerging technologies. He is results-driven in all aspects of Information Technology, with experience serving a diverse customer base including the healthcare, education, legal and non-profit sectors.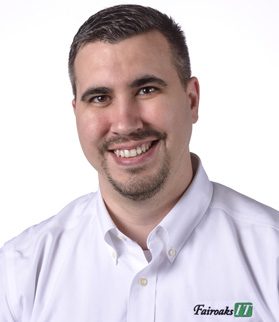 Steve DaSilva
Systems Engineer
Steve joined the Fairoaks IT Team in March 2019. He holds B.S. in Information Technology. Steve has worked as a Systems Engineer, Tier 2/3 Support, Project Manager, and Help Desk Manager. He has experience monitoring systems for performance and availability, responding to alerts, and resolving system error messages.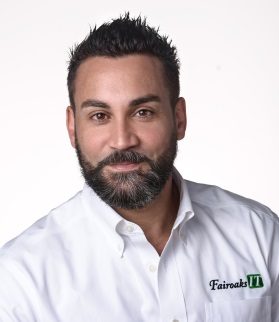 Joel Collazo
Technical Support Engineer
Joel became a member of the Fairoaks IT Team in May 2019. He brings over 15 years of IT experience holding positions from help desk associate to Director of IT. He's spent most of the last 10 years as a hands-on consultant wearing every hat from PC support to full network design and solution.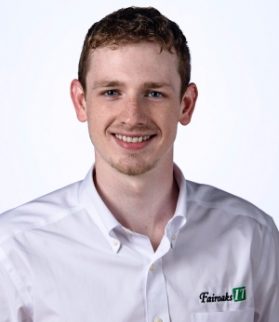 Ryan Olson
Project Coordinator
Ryan joined the Fairoaks IT team in June 2021 after interning for 2 summers with us. As a recent graduate of Syracuse University's School of Information Studies, he brings a unique people-oriented approach to technology. Ryan brings 2 years of support experience in the live-streaming industry helping clients troubleshoot and resolve their technical issues while trying to watch their favorite college athletics programs online. In his free time, Ryan can be found watching any soccer game that he can find or listening to music. Theresita Javier
Technical Support Specialist
Theresita joined the Fairoaks IT team in September 2021. She previously worked as a Help Desk Technician and Senior Quality Analyst with 7 years of experience in the Help Desk Support role. Theresita enjoys going to the mountains, cooking, and caring of her children.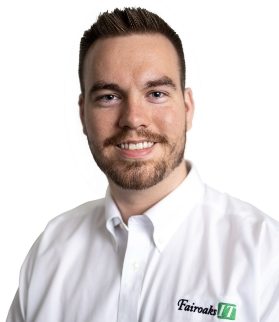 Chad Henry
Technical Support Specialist
Chad became a member of the Fairoaks Team in March 2022. Chad has over 3 years experience in the IT support and computer technology field. He has worked in various industries providing support to clients related to their hardware, software, cell phone and data backup. He has an Associate of Science Degree in Computer Engineering Technology.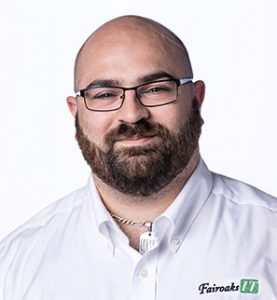 Anthony Fasulo
Technical Support Specialist
Anthony joined the Fairoaks IT team in October 2022.  Anthony has several years of experience handling various application and hardware issues for in-house and remote users. Anthony takes the time to understand his client's needs and is known for his excellent customer service. Paul Sazon
Technical Support Specialist
Paul joined the Fairoaks IT team in January 2023. He has been working in the technical support field since 2009. His previous roles include IT Service Desk, Customer Interactions Associate, and Technical Support Consultant. He has knowledge supporting users, printers, applications, remote access and mobile device management. Keith Agra
Technical Support Specialist
Keith rejoined the Fairoaks IT Team in August 2023.  He studied Information Technology at the Cagayan State University and started working as a technical support in 2007 holding positions as Product Trainer for a Verizon campaign, Desktop Engineer for an Australian company and IT Analyst for a bank in Europe.  He was attracted to the technological world at a young age finding a lifelong passion for video games.  Super Mario refers to a guy who did his best to overcome any challenges and saves the princess at the end. Keith relates that to his role as an IT Technician where technical issues are the challenges and saving the princess/customer.  He finds it pretty amazing how the world has become a better place because of all the great technical inventions available today. He still plays video games in his free time during the pandemic, however loves going to movies and visiting friends and relatives. He also loves reading comics and fantasy novels.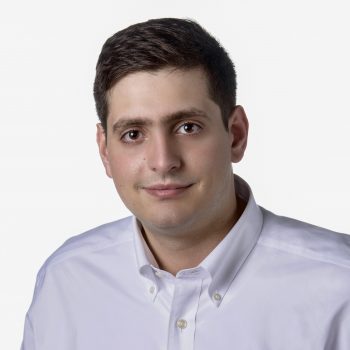 Michael Audi
Service Manager
Michael joined Fairoaks IT in June of 2020. Before joining our team, he worked with a small private IT company developing his skills for our enterprise level client services. In his free time, you can find him outside tending to his garden or just enjoying the breeze.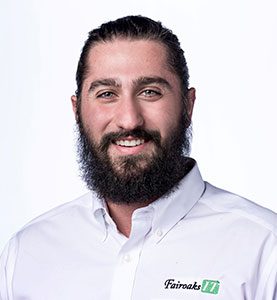 John Ferrara
Client Success Coordinator
John became a member of Fairoaks IT in October 2022.  He has 8+ years developing strategies and processes that deliver consistent customer service satisfaction through all phases of the customer lifecycle.  He utilizes data research and customer feedback to identify and understand his client's needs and challenges to design effective solutions.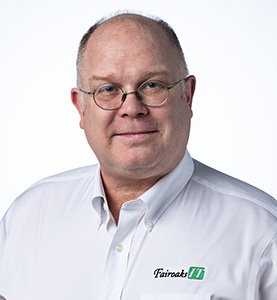 Guy Smallwood
Automation Engineer
Guy became a member of Fairoaks IT in December 2022.  He has many years of experience as an IT generalist working with big iron mainframes to local desktops.  Recently Guy has focused on IT Security and Automation.  Guy Is passionate about anything concerning computers.  Fairoaks IT and our clients will benefit from his many years of expertise in the computer field.  In his spare-time he trains for triathlons and plays Final Fantasy XIV.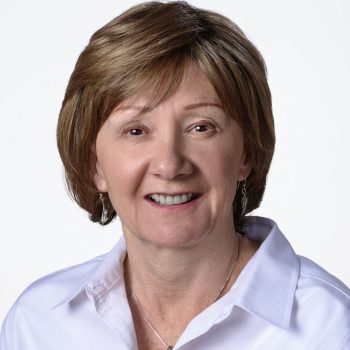 Lynn Kleimola
Office Manager
Lynn joined the Fairoaks IT team in 2017 as our Office Manager. She previously worked in a variety of office, marketing, and management positions in industries including Human Services, Automotive, Website, and Data Management. In her free time, she can be found painting, walking and spending time with family & friends. She loves yoga, qi gong, Cape Cod, sunshine, and being outside in the fresh air.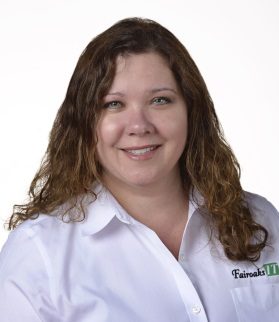 Michelle LaGrandeur
Purchasing And Marketing Specialist
Michelle joined the Fairoaks IT team in October 2019. She has extensive office experience working in the fast-paced Restoration industry and other various Customer Service industries. She recently moved back to RI and loves living closer to family. She will never miss out on an opportunity to dance (nor should anyone!). She loves cooking and entertaining. Michelle is known for trying new things, taking the backroads and exploring new areas.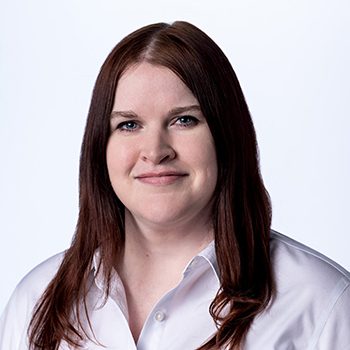 Colleen Carey
Office Assistant
Colleen became a member of the Fairoaks IT Team in December 2021. She brings over 15 years of business experience in the Facilities & Real Estate industries. In her free time, she enjoys camping, hiking, and kayaking the New England area. When at home she spends time playing games, listening to records, and doing archery. Claire Tan
Office/Marketing Assistant
Claire joined the Fairoaks IT team in September 2022. Claire has experience in Marketing and Customer Service roles. She has worked directly with her clients to answer questions and explain products and services. Claire has the ability to conduct research and compile data to identify key indicators to benefit her clients. Ariel Christenson
Purchasing/Marketing Assistant
Ariel joined the Fairoaks IT Team in August 2023.  She has experience in distribution and logistics for a variety of products and services.  Ariel is very customer focused and enjoys developing and improving processes for maximum efficiency and continuous improvement.