Microsoft 365 is designed to be a universal toolkit for teamwork-to give you the right tools for the right task, along with common services to help you seamlessly work across applications. SharePoint is the intelligent content service that powers teamwork - to better collaborate on proposals, projects and campaigns throughout your organizations - with integration across Microsoft Teams, Planner and much more.
Integrate with Microsoft Teams
Microsoft Teams and SharePoint are strongly interconnected with each other. When you create a Team in Microsoft, it automatically creates a SharePoint site and vice versa, you can create a Team from an existing SharePoint site. All the documents that are uploaded to Teams are automatically stored in the SharePoint document library.
Integrate with Microsoft OneDrive
You can sync Microsoft SharePoint files so you can work with them directly in File Explorer and access them even when you're offline. You don' have to sync all the documents / folders from SharePoint to OneDrive, so feel free to pick and choose only the files you need.
Use it as a document library
Via a Teams site, sharing documents with your team members has never been easier! Simply upload or create the file directly within SharePoint, click the share button, type the person's email. Common links, calendars and and more! It looks like an official website, but it's easy to build using the various web parts. Don't worry—it's secure! Users need to have a link and permission to be able to get to it.
250GB file uploads
250 is the new 100. Bring on the GBs! With the increased amount of people of people working remotely and on-demand learning, Microsoft is working hard to make it easier to store, sync, and share large files in Microsoft 365. The 250 GB cap is for SharePoint, Teams and OneDrive.
SharePoint sites can be backed up
In fact, it's something we don't recommend that you live without!
When you ready to get your data moved to SharePoint, please contact a SharePoint administrator to help you get setup. There is a finesse to moving the data in. You will need the proper structure in place to be able to search and avoid files going corrupt.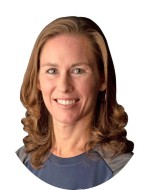 Katie Kremer is currently a Training and Project Specialist for Office 365, Security Awareness, and Nextiva Phone Training. Katie has over 15 years of experience in the IT field, and a degree in Business Information Systems.