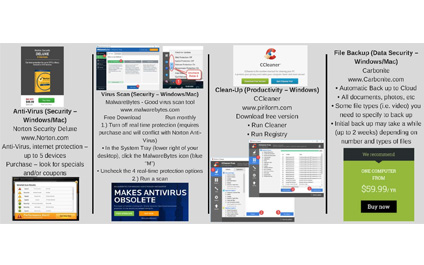 So much has been said, written, preached about protecting company data. You hear or read something about data security nearly every day on TV, the web, newspapers (yes, newspapers) and almost every month in our newsletter. Your company takes precautions with firewalls, anti-virus, web filtering, training, etc.
But what about YOU? What about your home computers? Your spouse and kids? What about your family digital photos, your tax returns, your kid's homework?
You need to think like a company thinks. You need virus protection, data backup and even productivity (who likes slow computers?).
Below are some suggestions. Nothing is fool-proof but these are products I choose to use on my family's computers. What products you use is less important than making sure take action to protect you and your family. - Tom Crossley; Fairoaks IT