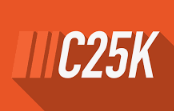 Couch To 5K Your 5K Trainer
The Couch to 5k running program is designed to get just about anyone from the couch to running 5 kilometers or 30 minutes in just 8 weeks.
Have you ever thought about running and just don't know where to start? What if you only had to train three times a week (with breaks between days). Each workout session is 30 - 40 minutes long, which includes a 5 minute warm up and 5 minute cool down.
Here is where the app comes in........ There is an audio coach and music. The coach will let you know when to walk and when to run. There is also a Zen Power Playlist to keep you motivated.
Power in Numbers. You will also have access to the C25k community. This program has helped millions of people on their health journey. You can share your story and read about other member's journeys. Use this community as inspiration to keep you going and inspire one another.
In addition to music, you can also listen to Podcast bits. These are sorted by Categories: Health and Science, Culture and Education, Lifestyle, Top News, and Business. It doesn't stop there. From the same developers as the C25k program and app, there are so many other Fitness Apps you can enjoy. The app categories range from Challenges, Pedometer, Running, Sleep and Trainer. You can even push your goal back and do the 10K Trainer!