Businesses across the country are switching over to hybrid work environments. If you're in this boat, you may be wondering how to keep things fair between your remote and inoffice employees. Below you'll find 10 habits to implement that will create an equal environment for all of your employees.
Change How You Track Productivity
When you work in an office, many consider "working" to simply mean being in a work environment. If you have a hybrid team, you need to come up with a new system to track productivity. This measurement should be based on output and results.
Standardize Your Meetings
It can be awkward and frustrating for a remote employee who can't hear or see what's going on during a meeting due to poor camera angles or audio issues. It can help to have your entire team meet on Zoom rather than just those who are working remotely.
Use Public Channels
Use public channels like Slack or Microsoft Teams for communication between you team to ensure everyone is in the loop.
Digitize Your Resources
You need to have digital resources readily available for your remote team members because they can't simply ask their nearest coworker or check office records for information
Keep remote And Office Workspaces Consistent
You may have spent a lot of money designing your workplace, but you also have remote employees who may be working in cramped spaces. Make sure your design principles extend to your remote employees. This will help so that productivity, safety, training and brand representation will all remain consistent.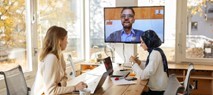 Diversify Company Rituals
Many businesses focus on creating a company culture, but this becomes difficult with remote and in-office employees. You need to make sure your company and teambuilding rituals include everyone.
Equal Rewards
There should not be a difference between the rewards your in-office and remote employees receive. Make sure you are acknowledging your remote employees on public channels and sending them gifts or perks since they can't participate in team lunches.
Coordinate Team Schedules
If you have employees coming and going from the office at all hours of the day, communication can get fuzzy. Try to keep your departments' schedules lined up so people can still use on another as recourses.
Repeat Important Announcements
Your remote employees will not be in the break room hearing about everything that's happening in the office. You need to keep them informed of any ongoing developments with the business or other major announcements.
Seek Feedback
You should always try to get feedback from your remote and in-office team members so you can make necessary adjustments. The experience needs to work for all your employees, so feedback is critical. By putting some of these tactics into action, your hybrid team will be working more cooper