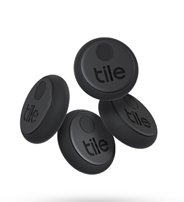 Sticker — The Smallest Finder By Tile
First, there was the Tile - a small, square device used to find just about anything. You attach Tile to the thing you don't want to lose (keys, for example) and you pair Tile with the Tile app. Easy!
Now, Tile has introduced Sticker, their "smallest finder." It's a mini-version of their popular fob, and it can be stuck to just about anything, from TV remotes and portable electronics to tools, bikes, you name it - anything you don't want to go missing.
Plus, not only does Sticker stick to anything, but it also has a three-year battery life, so as they say, "you can set it and forget it. "Once it's paired with the smartphone app, it's supereasy to track. And if you lose a "Stickered" device, Sticker emits a loud ring to help you locate your misplaced item, at a range of about 150 feet. Learn more about Sticker at: TheTileApp.com/en-us/store/tiles/sticker.