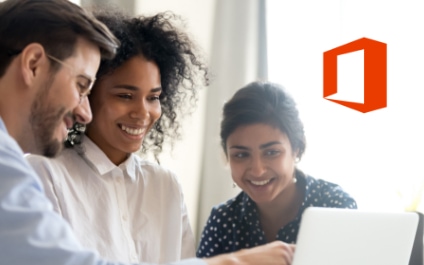 The culture of work has changed to more open and collaborative meth- ods, letting organizations work se- curely together from anywhere in the world. Get work done for your- self, for your team or for the whole organization all in one place.
Work on Your Own
OneNote is a place that lets you take notes anyway you want. You can type, write, or even record audio notes, then instantly share your notes with anyone.
With busy lifestyles, we're constant- ly on the move, whether working at home, at the office or on the go, files can be saved to the cloud in OneDrive, so you access your files from anywhere and on any device.
Use MyAnalytics to help you save time so you can be most productive. My Analytics helps you see exactly where you spend your time whether it is email, Teams, meetings or any other place.
Use inking to operate in the digital world. Through the power of touch, you can create in more natural ways and express yourself more freely. Using digital ink is easy, write with your pen, then convert your ink to text with the push of a button or use your finger or pen to edit with natu- ral motions, like circling to select and crossing out to delete. teamwork to keep your shared files in a single secure location that eve-ryone can access. Stay connected wherever you are with chats, meet-ings, and calls. Join teams or create your own, adding channels as nec-essary. See everything you have planned for the day or week in meetings or create your own meet-ing. Call people using Teams, even if they do not use Teams. Catch up on unread messages, @mentions and replies in your Activity.
Work Across Your Organization Your organizations social network, Yammer, can let you get and stay connected with your network of coworkers. It's part communication tool, knowledge base, and your company's social media site.
Use a SharePoint portal as your home base for company news, up- dates, policies, and hand-picked links from across the business. It's a good place to bookmark for all your devices.
Get a comprehensive, intelligent so- lution, that enables everyone to be creative and work together, securely with Microsoft 365.