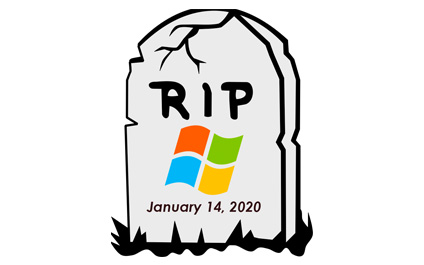 Please take a moment to read this important announcement: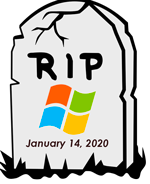 Microsoft has officially announced support
on Windows 7 and Windows Server 2008 will be
ending on January 14, 2020
*Any computer or server with these operating systems installed will no longer receive security updates, making you and your data, vulnerable to security risks and viruses.
That means any computer or server with these operating systems installed will be completely exposed to serious hacker attacks aimed at taking control of your network, stealing data, crashing your system and inflicting a host of other business-crippling problems you do NOT want to have to deal with. This is such a serious threat that all companies housing financial and medical information are being required by law to upgrade any and all computer systems running Windows 7 or Windows Server 2008 R2 because firewalls and anti-virus software will NOT be sufficient to completely protect them (or you). Unless you don't care about cyber criminals running rampant in your company's server, you MUST upgrade any servers or workstations running these operating systems. And while January 14, 2020 may seem like a ways off today, updating an IT infrastructure is a large task that takes considerable time. It's important you take action NOW, before it's too late.
As a local Microsoft Certified Partner, my company has committed to helping businesses by offering:
a Free Microsoft Risk Assessment and Migration Plan,
to show you the Easiest, Most Budget-Friendly Way to Upgrade
Eliminating the need for you to spend a small fortune on new hardware and software.
Giving you instant disaster recovery and the peace of mind that comes with it.
Lowering your IT support and maintenance costs.
If nothing else, you'll gain a 3rd-party review of your computer network's security for free.
To claim your Free Risk Assessment and Migration Plan go to:
www.FairoaksIT.com/Windows-7-EOL