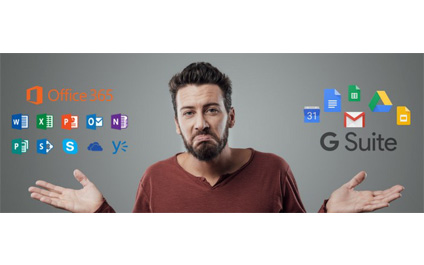 At first glance G Suite and Microsoft Office 365 seem to offer similar applications and features but if you take a closer look, you will see some key differences that confirm the reason Microsoft dominates the market for business productivity tools.
FEATURES
First let's take a look at the competing productiv-ity suites features. G Suite combines several applications such as Docs, Sheets, Slide and Forms. In addition to these features, it also offers communication tools like Gmail, Hangout and Google Calendars. Lastly, G Suite offers Google Drive which provides storage for all data. All of this sound great and quite comparable to Office 365, but the variation with Word, Powerpoint, Excel and Outlook is that it comes in both desk-top and web versions. This allows for you to store local copies of documents as well as share them with others.
SECURITY
Security is always an important aspect to any person or company. Although Google takes good measures to protect its privacy and comes with special spam, phishing and malware protec-tion, Office 365 makes security their core tenant. In addition to already amped up security, Mi-crosoft offers an enhanced security layer in the form of Advanced Threat Protection and two-step verification. They also use third party audi-tors who review its cryptography.
ACCESSIBILITY
Office 365 leaves G Suite in the dust when it comes to accessibility. Office 365 offers both online and offline services, this means you can keep working even when you do not have inter-net access. G Suite is a cloud-based service, there-fore access to your web browser is required to do anything.
VIDEO CHAT
G Suite has done a good job of providing a smooth experience and quality video, but it lacks in the amount of participants-allowing only 25 participants at a time. Like G Suite, Office 365 provides video chat, however it allows for more users and with the launch of Teams it is even better. Teams allows for up to 250 participants and allows for conference calls to anyone.
FILE STORAGE
When it comes to storage, G Suite offers 30 GB under its Basic plans. However, it's worth noting that this 30 GB limit includes space occupied by emails. The G Suite Business plan offers unlim-ited storage, which is a big plus if your business frequently stores and uses large multimedia files. But there's a catch—you get unlimited storage only when you buy more than 5 user accounts. If you buy less than 5 user accounts, you'll need to settle for 1 TB per user. Office 365 offers better basic storage plans than G Suite. Its Business Essentials plan provides you with 1 TB of stor-age. To get more space, you can buy separate plans accordingly.
PLANS & PRICING
G Suite has three different plans for its business end-users. This includes Basic, Business, and Enterprise. Office 365 has more options for busi-ness and enterprise users with monthly and an-nual costs. In addition, it allows for smaller busi-nesses with 300 or fewer employees to choose from three plans—Business Essentials, Business, and Business Premium. At the Enterprise level, Microsoft brings in four different plans starting from $8 per month per user and extending up to $35 per month per user.
OUR CHOICE
Clearly, Office 365 is a better fit for any business compared to G Suite. Its longstanding products are reliable and secure, far outweighing G Suite in every aspect.
Carrie Braun is a former Middle School Teacher with a bachelors and master's degree from Wright State University and is currently working on her Human Resource degree at Rhodes State College. Carrie is currently a Training and Development Specialist for TTechT implementing hands on training through the Microsoft Immersion Experience.