You wouldn't leave your office building unlocked overnight, so why take your organization's cyber security any less seriously? It's what stands between hackers and your sensitive data.
MYTH #1: A Small Business like mine doesn't need cyber insurance
Fact: 85% of data breach insurance claims come from small to mid-sized businesses, and over 60% of those businesses never recover from a data breach. Regularly backing up your data is one way to minimize the damage that can occur if your business in compromised.
MYTH #2: Hackers aren't interested in my business
Fact: Any data that can be monetized, such as credit card numbers, health records and contact information, is an attractive target. And if it's easy to get, the more appealing it is to hackers: even email addresses can be used to lure employees or customers into disclosing personal information.
MYTH #3: Data Breaches are already covered under my liability policy
Fact: Not true! And general liability insurers are saying so by amending their policies to state explicitly that losses due to cyber breaches are not covered.
MYTH #4: Cyber Insurance is too expensive…
Fact: A cyber insurance policy can cost as little as $1,000 annually, whereas crisis response costs following a breach can easily climb well into six-figure amounts. There are also legal costs and settlements to consider. Having cyber insurance could prove to be priceless when it comes to protecting you and your business. To request your cyber insurance quote online visit www.HUBcyberquote.com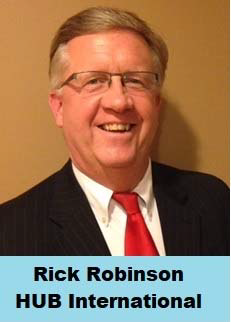 Richard Robinson, Jr. CIC, CRIS, Vice President, Hub International New England LLC—Joining the firm in 1986, Rick has over 30 years experience in providing businesses with a broad array of property, casualty and risk management services. He advises clients on Commercial Insurance, Employee Benefits and Personal Insurance. Rick is Vice President with Hub International New England, LLC located locally in Medfield MA. An independent insurance agency, striving to use "Strategy First/Insurance Last", Hub New England has 26 offices and places over $1 billion in premiums for their clients, representing close to 200 insurance companies. Rick attended Franklin High School and graduated Summa Cum Laude from Springfield College. In 1990 he earned the designation of Certified Insurance Counselor and has also earned the Construction Risk Insurance Specialist designation. Rick resides in Franklin with his wife Lori and their four children. He enjoys an occasional round of golf and coaching youth soccer and basketball in his home town.
You can connect with Rick at:
Rick.robinson@hubinternational.com
At LinkedIn:
https://www.linkedin.com/in/richardrobinsonjr