SharePoint started out in 2001 as a document library solution. Now, users build internal websites and run other Microsoft apps on the platform.
What used to take a four-year Bachelor's degree in Computer Science with plenty of experience in coding can now be done out of the box with SharePoint.
80% of Fortune 500 companies love Microsoft SharePoint, but companies from any size can benefit from using SharePoint. Microsoft continues to invest in new technologies to help keep the platform fresh and user friendly.
To create a SharePoint landing page is simple. Use a browser to go to portal, Office.com, then select Apps, then SharePoint. Go to My Site. From there you have two options: Team Site or Communication Site.
Teams site is used to share documents, have conversations with your team, keep track of events, manage tasks, and more with a site connected to a Microsoft 365 group.
Teams sites are great for project teams. If you are doing this right, you will likely have a lot of Teams sites. If you have a lot of projects, each project team will likely need access and information management requirements. You will have the ability to create the Teams site through Microsoft Teams. This will allow you to use the chat feature and also a place to store files. Along with all the other benefits of using Microsoft Teams.
When you use a Teams site, you also get a Planner board, OneNote notebook, Email address for the group, Shared Calendar, shared mailbox, and a connection with Microsoft Teams.
A communications site allows you to publish dynamic content to people in your organization to keep them informed and engaged on topics, events, or projects.
Communications sites are great for keeping your entire company on track. It's a place that you can display announcements, holidays, organizational charts, group calendar, commonly used links.
If you are using Communication sites for individual departments, you can display information for just the people working in those departments. Let's use Human Resources as an example. They
can share communication such as: "Official" corporate news, HR team communicating benefits and compensation information, Travel team publishing guidelines and corporate travel; and Policies and Procedures.
As far as permissions are concerned, you are able to set people as members who can contribute to SharePoint. You also have the option to add guests or people from outside of your organization into the Teams site. Just be sure to add them as a guest in your Microsoft 365 admin center. Remember, SharePoint is a web-based platform; however, the general public cannot get to your data in SharePoint just by searching for it. You have to give them permission to get to it and the link.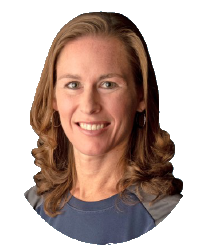 Katie Kremer is a Training and Project Specialist for Office 365, Security Awareness and Nextiva Phone Trainings. Katie has over 15 years of experience in the IT field and a degree in Business Information Systems.