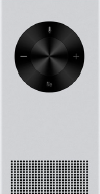 The Pocket Translator:MUAMA ENENCE
It used to be science fiction, but not anymore! Now, you can translate languages on the go! The Muama Enence is the device that makes it possible. This handheld "listener" is capable of real-time translation of over 36 common languages from around the globe. Smaller than a smartphone, the Muama Enence breaks language barriers and makes travel easier than ever before, whether you're traveling for business or for vacation.
The Muama Enence is supereasy to use and ultra-portable. All you need to do is press a button, and it does the rest. Plus, with excellent audio quality, you'll be able to hear the translation, even when things get busy around you. Learn more – and get your own – at bit.ly/37hhn8R.