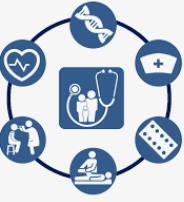 Here's to a year of health, wealth, and happiness in 2021!
As we get started with the new year, it's the perfect time to take a look at the tools you have available to make it a healthy year. MyChart is an app that you can put your health information in the palm of of your hand and helps you conveniently manage care for yourself and your family members.
An overview of the app:
Communicate with your care team. Review test results, medications, immunization history, and other medical information.
View your After Visit Summary for past visits with any clinical notes your providers have recorded and shared with you.
Schedule and manage appointments for past visits and hospital stays along with any clinical notes your provider has shared with you
Schedule and manage appointments, including in-person visits and video visits.
Get price estimates for the cost of care.
View and pay your medical bills.
Securely share your medical record from anywhere with anyone who has internet access.
Connect your accounts from other healthcare organizations so you can see all you health information in one place, even if you've been seen at multiple healthcare organizations.
Receive push notifications when new information is available in MyChart.
Some new features include:
Tracking your risk of COVID-19 infection by responding to a self-screening questinaire in the COVID-19 activity section.
If you are pregnant you can also track your pregnancy progress week by week.
Not all features are available by every organization. If you have questions about what is available, contact you healthcare provider.