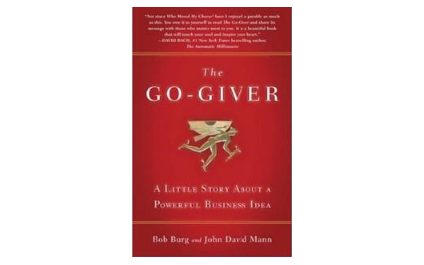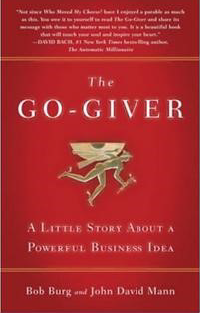 I'm a HUGE fan of business fables. This past month, I read an oldie but a goodie, called The Go-Giver: A Little Story About A Powerful Business Idea by Bob Burg and John David Mann. If you have not read this book, you MUST, yes must, go buy it immediately. It's a quick read with pages chock full of good, solid business principles that can also be applied to other aspects your life.
The fable has a main character named Joe, who is a young, ambitious and hard working employee of a fictional company. Joe finds himself at the end of the quarter, struggling to meet his goal and in the midst of losing out on a big contract. Joe decides to "network" with another member of his office to rescue the big contract. Instead of getting an easy, immediate result, Joe finds himself having to spend time learning valuable lessons AND implementing them as he's learning them.
Without giving away the whole book, because it's not very long, the main principle in the book is about serving others. I found myself seriously considering how we serve our clients, prospects, friends, colleagues and more and if we actually serve them or if we keep score when serving. The best that we can be is when we are watching out for others, their interests and their back. When we do that we stop keeping score and are actually serving. I'm sure you're thinking this sounds noble in theory, but you've got bills to pay and payroll to meet. That's the perfect reason to read this book!
When you read the book, let me know. I'd love to hear about your thoughts and how you plan to implement the 5 Trade Secret laws!