As we venture out of the relaxing days of summer and ready for a fresh start to the next season, I wanted to share how Microsoft 365 is the total productivity solution that your business needs. Maybe you don't use Office 365 yet; or maybe you want to make sure you are getting the most out of your subscription, let's review what is included with your Microsoft 365 business standard subscription.
Office Apps
The suite of Office applications is top-notch to include Word, Excel, PowerPoint, and OneNote on your PC or Mac. For PC only users, you also get Access and Publisher. With each Office 365 license, you receive up to five installations, so you are covered if you want to install the app on your computer, tablet, and phone!
Access your files too by logging into your Microsoft account and you can use the web version! When you do this though, make sure you are on a secure device and network! Also, be sure to check your company's policy to make sure you are allowed to access company data from a personal device.
Storage Solutions
You have a few options that all keep your data safe! OneDrive - each license comes with 1 TB of secure cloud storage. This solution is best used for individual data or when you need to share a file or two with someone outside of your organization.
SharePoint - whether your company needs an Intranet site or some Teams into your inner web designer skills to set up the communication hub you need! Regardless of which Tool you use to save your data, rest easy that there is intelligent search and discovery that will help you across your data sources.
Storytelling
PowerPoint presentations are great and serve their purpose. If you are looking to jazz up your presentation or maybe a newsletter, web-based report, etc, check out Sway!
Instant Messaging And Online Meetings
How we love our Microsoft Teams! Chat, share files, share screens, present, and collaborate with the whole team! You can create multiple channels to help keep things organized. The files are saved in SharePoint.
Security
Always at the forefront of any option is to make sure your data is secure! Use Mobile Device Management, Multi-Factor Authentication, etc. to keep your data safe from those hackers!
Interested in learning MORE about what Microsoft 365 can do for you? give us a call!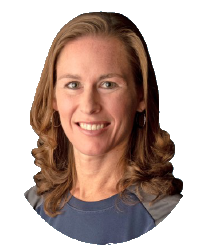 Katie Kremer is a Training and Project Specialist for Office 365, Security Awareness and Nextiva Phone Trainings. Kaite has over 15 years experience in the IT field and a degree in Business Information Systems.