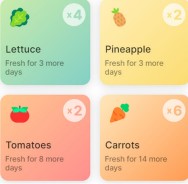 I'm all about saving time and money! The Kiff app is intended to stop letting so much food go to waste. Did you know that about 1/3 of the world's food production is lost or wasted every year? That is 1.3 billion tons! 40 % of all this waste is generated at home. It's either expired or just tossed out because we cooked too much.
Think about how much money is getting tossed in the trash each year on food that isn't eaten!
If you're like me, I love to eat fresh food, but I don't like to make multiple trips to the grocery store during the week to get it.
The Kiff app is aimed toward reducing all of that waste. It works best to plan out your meals (with what you will actually eat!), make a trip to the grocery and stick to your list!
When you arrive home, open the app and enter (or scan the barcode!) for the produce (and any refrigerator or freezer items (you can always add pantry items later on since they have a longer shelf life). From there, you can set the desired expiration date / best before / use by date.
This will trigger a notification to pop up when you're getting close to the food going to waste.
A few additional tips for keeping food fresh:
Buy just what you need
Store food properly
Enjoy your leftovers
Extend food shelf life (freeze it!)